Indonesian Indoor Teak Furniture
The indonesian indoor teak is one of the most favorites for an indoor setting. Valued as the best hardwood for outdoor furniture, this material is also much prevalent to indoor usages. When it comes to indonesia indoor teak, there are different qualities or grades of the teak furniture available in the market.
It might have been difficult for you to find the best one since you may find a similar product as you saw in another site.
The price of indonesia indoor teak furniture
However, if you compare from low-grade furniture and high-grade furniture, you could immediately notice them by checking their price tag. Obviously, it is totally different when you purchase a teak chair which costs you $30 and a similar model with $160 price tag from another seller. To understand about this matter, we encourage you to understand the basic facts about indonesia indoor teak industry.
The types of the indonesia indoor teak industry
The teak furniture industry in Indonesia has been divided into two core types: formal and informal. The formal one is organized well by the legalized corporation in the industry. While the informal one is taken care by individuals or groups who consist of carpenters, freelancers, and entrepreneurs. The formal industry usually includes giant manufacturers that use the high-end technology to meet the international standard quality. While we can't expect too much on the informal industry because they have their own standard in choosing the materials, procedures, and prices. That explains a lot that you often see a lower price on Indonesia indoor teak.
But when it comes to your demands, both are viable options. There are also many local carpenters who can meet your requirements. The outcomes can be better if you have full control on the price of the furniture, wood material, design, and other aspects. And you can't also go wrong with relying on the formal industry like us because we involve local carpenters who really know everything about Teak hardwood.
Indonesia Indoor Teak furnishing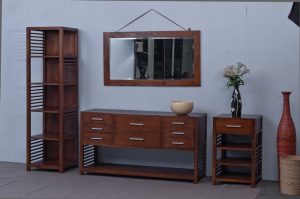 The indonesia indoor teak furniture can be the reflection of your personality, taste, class, and values. When it comes to personalization, you can't go wrong with Indonesia indoor teak furnishing pieces. Adding these into your interior will give your guests such an impression of the members of the family who live in your house.
The furniture holds important role when it comes to this. Your teak wood furniture choice can be the reflection of who you are.
If you want to make a great impression, or you just want to enhance your daily life, then the indonesia indoor teak is the right answer. Teak does not only signify the style and class but also gives the strength and durability features that you can't find in other wooden materials. The most natural quality is one of the reasons why it is chosen by many households.
The best of the best furnishing pieces come from Indonesia,www.indoor-teak.com. The teak is not only available in Indonesia, but also in several countries in southeast Asia. However, teak wood from Indonesia has been valued as the best one when it comes to indonesia indoor teak furniture. It happens for good reasons. Folks have been knowing the authenticity and quality of teak furniture made by Indonesian manufacturers, including us. Worldwide known, the furniture made from teak wood is generally known as indonesia indoor teak furniture or indonesia outdoor teak furniture.
The indonesian indoor teak is the world widely known because of its incredible characteristics. It is highly resistant to extreme weather. Regardless the fact that it is indoor furniture that you are scouting, you can leave it outside in one year without affecting the quality of the teakwood. The furnishing pieces from teakwood are not easily affected by the water, moisture, heat, and other extreme conditions. Not to mention that it has natural oil which can deter the bugs from destroying your furniture.  These qualities make indonesia indoor teak has high values. It is also lasting so that it is possible that several generations down the same indonesia indoor teak for years.
In addition to the perks above, the indonesian indoor teak is well known for its unique and stylish look. The yellow to honey color adds such magnificent look. If you want to leverage your house decoration, this is your answer.
The perks of having us with you
We already mentioned the two types of the teak furniture industry in Indonesia. We are the formal industry which emphasizes on high quality of indonesia indoor teak furniture. We realize that it is not easy to recognize the quality of the teak furniture you are purchasing.
Here we are going to share you the perks of having us with you. First things first, our teak wood material's grade is A, which is the top of the grade. Unlike the other manufacturers who use grade B, C, and so on.
You may have a question about how was the furniture manufactured, handcrafted or machine created? We use both of them. At some points, we need to create the furniture from machine to speed up the production process. However, we need man powers to craft the furniture into the extent details.
We are also ready to work with you to finish your specific projects for your properties such as hotels, residences, apartments, commercial buildings, and so on. Our end finish of the indonesia indoor teak furniture focuses on a natural finish to preserve the appealing factors and performances. You could either choose the original color of the teak wood or request specific color to match your building theme.
We also come with a guarantee. We know that poorly manufactured furniture will only advise our clients' necessity. That's why we set the high standard of furniture, plus adding the guarantee for our client's protection. For the further information, do not hesitate to consult your project with our customer support. Whether you are purchasing indonesian indoor teak for investment or your own property, you can't go wrong by relying on us.