IFEX 2017
TEI 2016
PIGUNO KEMANG VILLAGE
(INDONESIA FURNITURE LOCAL)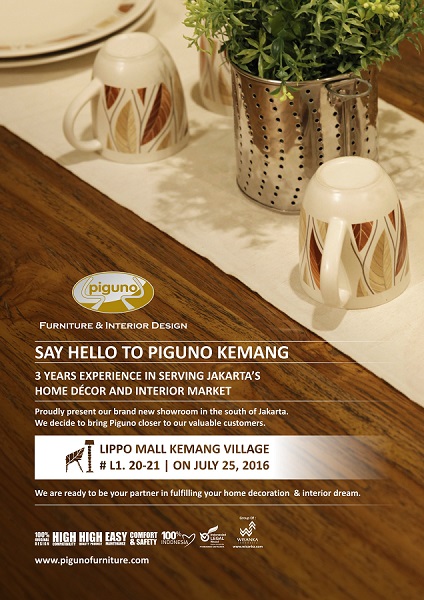 Having experienced more than 20 years, PT. WIRASINDO SANTAKARYA become an exporter of furniture that has reliable serve foreign markets. We send more than 40 containers per month to all over the world, working with hundreds wholesaler, handle and resolve the many projects of hotels and resorts in Indonesia (Bali, Bandung, Batam, Cirebon, Jakarta, Medan, Solo, Surabaya and Yogyakarta) as well as in the state another Country (Africa, the United States, Australia, Austria, Bahrain, Bulgaria, India, Croatia, Maldives, Maldives, Malaysia, Panama, Portugal, Qatar, Sri Lanka, Jordan, UAE, and more..)  and got huge appreciation from the hotel management and hotel guests.
Nowadays, with collection of more than 600 products design series exclusively designed through research and creative R & D team, and constantly create new products, which certainly will not be the same with other products. By utilizing the best natural materials and environmentally friendly with the added touch of art and Original Idea of ​​our designers make these materials into an outstanding work by always maintaining quality. So proud, we currently deliver products with premium design through PIGUNO brands. Quoting from the vocabulary of Java "Migunani" meaning beneficial, then we believe the future Piguno brands not only products but also a business that we run will bring benefits to the wider community.
We are here…in Jakarta! Please visit our representative Piguno Showroom in Lippo Mall Kemang Village 1st Floor, Jl. Jl.Pangeran Antasari No. 36 Kemang, Mampang Prapatan, Jakarta and meet our exclusive product collections and get a lot more interesting offers and discounts.